Under Eye Dark Circle Removal Cream 20ml and Anti Acne Face Wash 150ml
Under Eye Dark Circle Removal Cream 20ml and Anti Acne Face Wash 150ml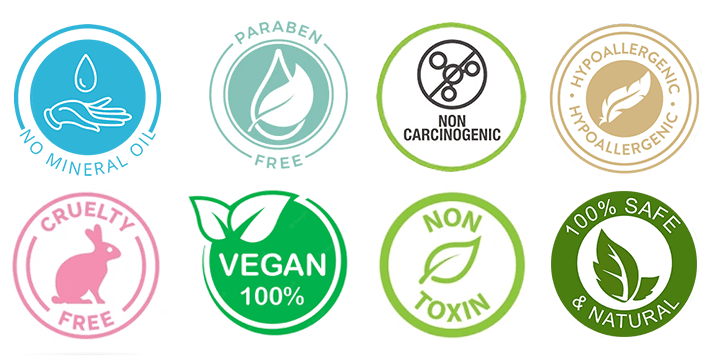 Vigni Anti Acne Foaming Toning Face Wash is a Unique Cleanser that eliminates Dirt and Oil, Clearing Acne breakouts and blackheads. Vigini Acne Foaming Wash is non itching formula that removes excess oil, dirt and makeup, while adding back moisture and toning your skin every time you cleanse. Skin feels clean, refreshed and energized. Vigini Foaming Toning Acne Wash is a natural blend of Rose Hydrosol, Tea Tree oil, Salicylic acid, Apple Cider Vinegar, Neem Ext, and Niacinamide that helps prevent acne by deep cleaning impurities, fighting bacteria and controlling excess oil secretion.
Vigini Under Eye Cream is here to help you reduce under eye dark circles, puffiness or wrinkles. It is formulated with premium actives that effectively reduce fine lines and under eye bags making eyes look youthful and radiant. The fast-absorbing and lightweight formula minimizes the first signs of aging. It also helps in relieving the over fatigued and tired eyes, allowing the areas around the eyes to look radiant. A nutrient-rich ream that helps in banishing dark circles and under eye bags effectively to bring back the twinkle in your eyes.
Key Product Benefits
| Regulates Sebum Production | Oil Control formula for Acne Prone Skin | Unclogs and Cleans Blocked Pores | Makes Skin Visibly Clear |
| --- | --- | --- | --- |
Product Features & Benefits
Exfoliates Skin, Keeps pores clean. Reduces Acne
Antimicrobial properties controls skin infections and soothes irritation
Builds protein in the skin and offers protection against environmental damage
Antiseptic, antibacterial, and anti-inflammatory properties treats Skin
Salicylic Acid
Apple Cider Vinegar
Niacinamide
Tea Tree Oil
Witch Hazel Ext.
Retinol
Coffee Ext.
Aqua
Cucumber Ext.
Wet your face and neck and water. Pump out Cleanser and Massage gently all over face and neck. Rinse and pat dry.
Follow with VIGINI Face Serum or Mattifying Moisturizer.
Take a pea-sized amount of cream on your fingertip. Apply dots under the eyes and massage roll in a circular motion. Massage till the cream is completely absorbed.
Leave it for minimum 1 hour for best result or overnight.
Recommended eye massage two time in a day
Notice best results after 1-2 weeks of regular use.
Men and women above age of 15years.
Suitable for Teenagers suffering from Acne
Vigini's formulations are based on 100% Natural Actives. Its ingredients are Natural and Safe and do not include any harmful Chemicals, Artificial Colours or Synthetic Fragrances that may harm its users in the long run. Vigini's products are all safe for use on Human Skin. All products are Paraben Free, Sulphate Free, Harmful Chemicals Free, Hypoallergenic & Non-Carcinogenic.
No Chemicals
Safe & Natural
No artificial Colours
Synthetic Fragrance Free
Non Carcinogenic
Hypoallergenic
Paraben Free
Aqua
Cucumber Ext.
Arlacel 165
Coffee Ext.
Vitamin E
Retinol
Argan Oil
Juveneye CLR
Salicylic Acid
Apple Cider Vinegar
Niacinamide
Tea Tree Oil
Neem Ext.
Witch Hazel Ext.
Aloe Vera Ext.
Rose Hydrosol
Salicylic Acid
Apple Cider Vinegar
Niacinamide
Tea Tree Oil
Witch Hazel Ext.
Retinol
Coffee Ext.
Aqua
Cucumber Ext.

Wet your face and neck and water. Pump out Cleanser and Massage gently all over face and neck. Rinse and pat dry.
Follow with VIGINI Face Serum or Mattifying Moisturizer.
Take a pea-sized amount of cream on your fingertip. Apply dots under the eyes and massage roll in a circular motion. Massage till the cream is completely absorbed.
Leave it for minimum 1 hour for best result or overnight.
Recommended eye massage two time in a day
Notice best results after 1-2 weeks of regular use.

Men and women above age of 15years.
Suitable for Teenagers suffering from Acne

Vigini's formulations are based on 100% Natural Actives. Its ingredients are Natural and Safe and do not include any harmful Chemicals, Artificial Colours or Synthetic Fragrances that may harm its users in the long run. Vigini's products are all safe for use on Human Skin. All products are Paraben Free, Sulphate Free, Harmful Chemicals Free, Hypoallergenic & Non-Carcinogenic.

No Chemicals
Safe & Natural
No artificial Colours
Synthetic Fragrance Free
Non Carcinogenic
Hypoallergenic
Paraben Free

Aqua
Cucumber Ext.
Arlacel 165
Coffee Ext.
Vitamin E
Retinol
Argan Oil
Juveneye CLR
Salicylic Acid
Apple Cider Vinegar
Niacinamide
Tea Tree Oil
Neem Ext.
Witch Hazel Ext.
Aloe Vera Ext.
Rose Hydrosol
For External Use Only. Store at temperature below 30'C