Skin Whitening Brightening Body Polishing 100g and Under Eye Cream 20g
Skin Whitening Brightening Body Polishing 100g and Under Eye Cream 20g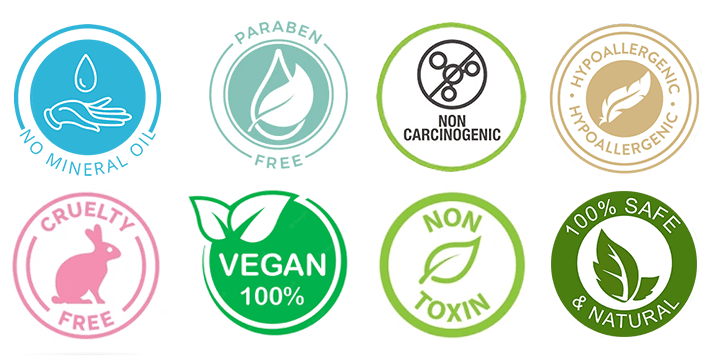 Vigini Lightening Brightening Body Polishing Cream is enhanced and SPF 30 is made using all premium quality natural ingredients. Vigini Lightening Brightening Polishing cream helps do away and pigmentation issues, marks, spots and scars and gets you a clearer complexion to be precise. It comes and anti ageing and and SPF 30 for sun protection benefits that helps restrict the ageing process of the skin and helps do away and the first signs of ageing like wrinkles, spots and blemishes in the most effective manner.
Vigini Under Eye Cream is here to help you reduce under eye dark circles, puffiness or wrinkles. It is formulated with premium actives that effectively reduce fine lines and under eye bags making eyes look youthful and radiant. The fast-absorbing and lightweight formula minimizes the first signs of aging. It also helps in relieving the over fatigued and tired eyes, allowing the areas around the eyes to look radiant. A nutrient-rich ream that helps in banishing dark circles and under eye bags effectively to bring back the twinkle in your eyes.
Key Product Benefits
| Lightens Complexion | Evens Uneven Skin Tone | Provide Fairness & Natural White Glow | Removes Pigmentation & Dark Spots | Makes Skin Radients Soft Supple |
| --- | --- | --- | --- | --- |
Product Features & Benefits
Lightens and reduces UV induced pigmentation and free radicals, without increasing sun sensitivity
Reduces fine lines and wrinkles
Key Product Benefits
| Remove Dark Circles & Puffy Eye bags | Reduce Fine Lines or crow feet | Nourishes and Tightens Skin | Lifts and Firms up skin around the eyes | Anti Wrinkles-Anti Aging |
| --- | --- | --- | --- | --- |
Product Features & Benefits
Reduces the appearance of fine lines, wrinkles and dark circles
Reducing dark circles due to the high levels of vitamin K.
Fine dryness lines, wrinkles and puffiness are countered and become smoother
Alpha Arbutin

Hyaluronic Acid

Shea Butter

Glycolic acid

Retinol
Coffee Ext.
Aqua
Cucumber Ext.
Take sufficient amount of the cream and massage on the skin for 8-10 minutes or till the cream is completely absorbed in your skin.

Regular use preferably twice a day, AM & PM

Take a pea-sized amount of cream on your fingertip. Apply dots under the eyes and massage roll in a circular motion. Massage till the cream is completely absorbed.
Leave it for minimum 1 hour for best result or overnight.
Recommended eye massage two time in a day
Notice best results after 10-12 weeks of regular use.
Men and women above age of 15years +

.
Vigini's formulations are based on 100% Natural Actives. Its ingredients are Natural and Safe and do not include any harmful Chemicals, Artificial Colours or Synthetic Fragrances that may harm its users in the long run. Vigini's products are all safe for use on Human Skin. All products are Paraben Free, Sulphate Free, Harmful Chemicals Free, Hypoallergenic & Non-Carcinogenic.
No Chemicals

Safe & Natural

No artificial Colours

Synthetic Fragrance Free

Non Carcinogenic

Hypoallergenic

Paraben Free
Alpha Arbutin

Hyaluronic Acid

Shea Butter

Aqua

Glyceryl

Glycolic acid

Orange Oil

Jojoba Oil

Cucumber Ext.
Arlacel 165
Coffee Ext.
Vitamin E
Retinol
Argan Oil
Juveneye CLR
Alpha Arbutin

Hyaluronic Acid

Shea Butter

Glycolic acid

Retinol
Coffee Ext.
Aqua
Cucumber Ext.

Take sufficient amount of the cream and massage on the skin for 8-10 minutes or till the cream is completely absorbed in your skin.

Regular use preferably twice a day, AM & PM

Take a pea-sized amount of cream on your fingertip. Apply dots under the eyes and massage roll in a circular motion. Massage till the cream is completely absorbed.
Leave it for minimum 1 hour for best result or overnight.
Recommended eye massage two time in a day
Notice best results after 10-12 weeks of regular use.

Men and women above age of 15years +

.

Vigini's formulations are based on 100% Natural Actives. Its ingredients are Natural and Safe and do not include any harmful Chemicals, Artificial Colours or Synthetic Fragrances that may harm its users in the long run. Vigini's products are all safe for use on Human Skin. All products are Paraben Free, Sulphate Free, Harmful Chemicals Free, Hypoallergenic & Non-Carcinogenic.

No Chemicals

Safe & Natural

No artificial Colours

Synthetic Fragrance Free

Non Carcinogenic

Hypoallergenic

Paraben Free

Alpha Arbutin

Hyaluronic Acid

Shea Butter

Aqua

Glyceryl

Glycolic acid

Orange Oil

Jojoba Oil

Cucumber Ext.
Arlacel 165
Coffee Ext.
Vitamin E
Retinol
Argan Oil
Juveneye CLR
For External Use Only. Store at temperature below 30'C