Redensyl Hair Growth Vitalizer Oil 100ml and Skin Whitening Body Polishing Wash 200ml
Redensyl Hair Growth Vitalizer Oil 100ml and Skin Whitening Body Polishing Wash 200ml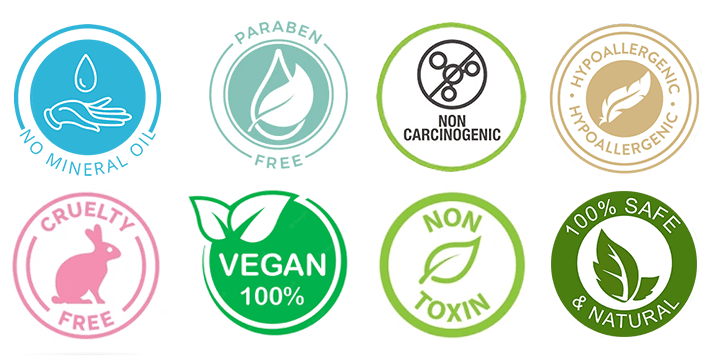 Vigini 100% Natural Hair Growth Vitalizer Oil fights against hair fall and controls thinning of hair. The oil is a blend of premium natural actives like Redensyl, saw palmetto that strengthens hair follicles and reduces hair fall. It helps in hair regrowth and reverses balding. Its formula protects scalp from damage caused by chemicals and pollution thus providing healthy shiny hair.
Vigini Lightening Brightening Body Polishing Wash works to brighten skin tone all over your body with minimal effort without use of a scrub or bleach. Vigini Lightening Brightening Polishing Wash helps do away with pigmentation issues, marks, spots and gets you a clearer radiant skin and complexion. Its exfoliating properties make skin smoother, supple and soft besides removing tanning and pigmentation.
Key Product Benefits
| | | | | |
| --- | --- | --- | --- | --- |
| Aids Faster Hair Growth | Helps Control Alopecia | Reduces Hair Fall | Nourishes Scalp | Unclog Pores |
Product Features & Benefits
Prevents Breakage & Thinning
Key Product Benefits
| | | | | |
| --- | --- | --- | --- | --- |
| Lightening & Brightening | Moisturizing & Polishing | D-Tanning & Exfoliating | Skin Feels Radients Soft Supple | Maintains pH |
Product Features & Benefits
Lightens and reduces UV induced pigmentation and free radicals, without increasing sun sensitivity
Exfoliates and Evens skin tone, reduces dark spots
Boosts skin moisture and makes it softer
Unclogs pores, Brightens Skin
1% Redensyl
3% Onion
1% Saw Palmetto Ext.
Alpha Arbutin
Glutathione
Niacinamide
Charcoal Beads
Apply oil on scalp and massage gently for 8-10 mins.
Leave it for minimum 1 hour for best result or overnight.
Recommended serum 2-3 times a week.
Pour sufficient quantity of body wash on hand of loofah. Gently rub on wet body rinse off and water. Vigini Body Wash is Suitable for all skin types. For external use only store in a cool & Dry
Gently rub on wet body rinse off and water
Notice best results after 10-12 weeks of regular use.
Men and women above age of 15years.
Vigini's formulations are based on 100% Natural Actives. Its ingredients are Natural and Safe and do not include any harmful Chemicals, Artificial Colours or Synthetic Fragrances that may harm its users in the long run. Vigini's products are all safe for use on Human Skin. All products are Paraben Free, Sulphate Free, Harmful Chemicals Free, Hypoallergenic & Non-Carcinogenic.
No Chemicals
Safe & Natural
No artificial Colours
Synthetic Fragrance Free
Non Carcinogenic
Hypoallergenic
Paraben Free
Redensyl
Biotin
Jojoba Oil
Aqua
Saw Palmetto Ext.
Amla Oil
Bhringraj
Anagain
Alpha Arbutin
Glutathione
Niacinamide
Coffee Bean Ext.
Activated Charcoal Beads
Mulberry Ext.
Argan Oil
1% Redensyl
3% Onion
1% Saw Palmetto Ext.
Alpha Arbutin
Glutathione
Niacinamide
Charcoal Beads

Apply oil on scalp and massage gently for 8-10 mins.
Leave it for minimum 1 hour for best result or overnight.
Recommended serum 2-3 times a week.
Pour sufficient quantity of body wash on hand of loofah. Gently rub on wet body rinse off and water. Vigini Body Wash is Suitable for all skin types. For external use only store in a cool & Dry
Gently rub on wet body rinse off and water
Notice best results after 10-12 weeks of regular use.

Men and women above age of 15years.

Vigini's formulations are based on 100% Natural Actives. Its ingredients are Natural and Safe and do not include any harmful Chemicals, Artificial Colours or Synthetic Fragrances that may harm its users in the long run. Vigini's products are all safe for use on Human Skin. All products are Paraben Free, Sulphate Free, Harmful Chemicals Free, Hypoallergenic & Non-Carcinogenic.

No Chemicals
Safe & Natural
No artificial Colours
Synthetic Fragrance Free
Non Carcinogenic
Hypoallergenic
Paraben Free

Redensyl
Biotin
Jojoba Oil
Aqua
Saw Palmetto Ext.
Amla Oil
Bhringraj
Anagain
Alpha Arbutin
Glutathione
Niacinamide
Coffee Bean Ext.
Activated Charcoal Beads
Mulberry Ext.
Argan Oil
For External Use Only. Store at temperature below 30'C