Lubricating Cum Stimulating Gel 100ml and Body Massage Gel 100ml
Lubricating Cum Stimulating Gel 100ml and Body Massage Gel 100ml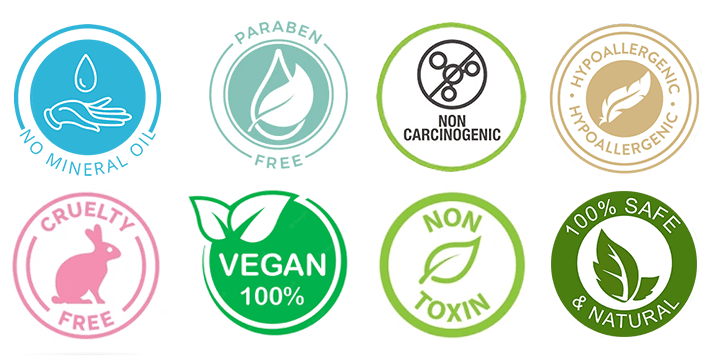 Vigini Lubricating cum Stimulating Gel for women, helps women suffering from vaginal dryness and itching. It is a water based formula that contains No artificial colors, No Synthetic fragrance, No Mineral Oils. It is Non sticky, Non staining, Sulphate free, Paraben free, Hypoallergenic, Non Carcinogenic gel. It is effective for Vaginal Dryness, Can be used as Effective Jelly for safe Lubrication. It Mositurizes and reduces friction and helps in mood arousal as it stimulates the nerves with its refreshing feel. It is suitable and friendly with toys and condoms
Vigini 100% Natural Actives Body Massage Cream Breast Bust Firming Tightening Enhancement Enlargement cream is Vigini 100% Natural Actives Body Skin Bust Breast Massage Toner Shaping Gel Cream,Helps Development Growth Enhancement Enlargement Increase Tightening Firming of Bust and capsule, Prevents Sagging makes look Big Bust Full 36,Non staining as Oil Spray .A unique blend of 100% Natural Actives. Vigini Bust Breast Toner is formulated to Increase Elasticity, Tighten muscles & provide Firm Toned Bust .Antioxidants nourish skin, increase blood circulation, develop healthy tissues & strengthen loose muscles. Rejuvenating properties develop new cells, helps encourage collagen production & improve elasticity. Moisturizes skin & encourage body's natural growth process to enhance bust shape and size. Product Toned bust and attractive cleavage is the dream of every women. Not every woman has toned and well shaped bust. Well Toned Bust adds to women's self esteem and confidence.
Key Product Benefits
| Moisturizes & Reduces Friction | Helps Mood Arousal | Non Staining, Skin Friendly | Water Based Gel | Toy & Condom Friendly |
| --- | --- | --- | --- | --- |
Product Features & Benefits
Tightens and Imporves Elasticity
Helps provide comfortable, frictionless and pleasurable sexual intercourse and your partner
Vaginal Tightening Bath cleanses, tightens, and reduces odors
Help keep your intimate areas properly moisturized and lubricated while using vaginal dilators
Key Product Benefits
| | | | | |
| --- | --- | --- | --- | --- |
| Anti Aging | Encourages Collgen Production | Help in Firming & Toning | Increase Elasticity | Hydrate & Nourishes skin |
Product Features & Benefits
Helps to make breast tight
Helps to form new tissues and also develop new cells
Help to reduce inflammation and reduce the infection
Help lighten the marks on the skin, improves the skin's ability to hydrate itself
Oak Gall
Aloe Vera Ext.
Cucumber Ext.
Rose Oil
Curcuma Comosa Ext.
Amla Ext.
Take a sizeable portion in your hand or finger and rub around your genital area. You can apply it to your partner's part or condoms. If you are using sex toys, apply lube to toy as well as small portion to your genital area to reduce friction.
Squeeze a portion of Whitening Gel & apply in intimate area. Use regular basis twice a day for early result.
Notice best results after 10-12 weeks of regular use.
Women above age of 18 years.
Vigini's formulations are based on 100% Natural Actives. Its ingredients are Natural and Safe and do not include any harmful Chemicals, Artificial Colours or Synthetic Fragrances that may harm its users in the long run. Vigini's products are all safe for use on Human Skin. All products are Paraben Free, Sulphate Free, Harmful Chemicals Free, Hypoallergenic & Non-Carcinogenic.
No Chemicals
Safe & Natural
No artificial Colours
Synthetic Fragrance Free
Non Carcinogenic
Hypoallergenic
Paraben Free
Oak Gall
Aloe Vera Ext.
Cucumber Ext.
Rose Oil
Glycerin
Aqua
Sliver Citrate
Sodium Gluconate
Ylang Ylang Essential Oil
Xanthan Gum
Sodium Gluconate
Oak Gall
Aloe Vera Ext.
Cucumber Ext.
Rose Oil
Curcuma Comosa Ext.
Amla Ext.

Take a sizeable portion in your hand or finger and rub around your genital area. You can apply it to your partner's part or condoms. If you are using sex toys, apply lube to toy as well as small portion to your genital area to reduce friction.
Squeeze a portion of Whitening Gel & apply in intimate area. Use regular basis twice a day for early result.
Notice best results after 10-12 weeks of regular use.

Women above age of 18 years.

Vigini's formulations are based on 100% Natural Actives. Its ingredients are Natural and Safe and do not include any harmful Chemicals, Artificial Colours or Synthetic Fragrances that may harm its users in the long run. Vigini's products are all safe for use on Human Skin. All products are Paraben Free, Sulphate Free, Harmful Chemicals Free, Hypoallergenic & Non-Carcinogenic.

No Chemicals
Safe & Natural
No artificial Colours
Synthetic Fragrance Free
Non Carcinogenic
Hypoallergenic
Paraben Free

Oak Gall
Aloe Vera Ext.
Cucumber Ext.
Rose Oil
Glycerin
Aqua
Sliver Citrate
Sodium Gluconate
Ylang Ylang Essential Oil
Xanthan Gum
Sodium Gluconate
For External Use Only. Store at temperature below 30'C