Intimate Whitening & Moisturizing Gel 100ml and Erase Stretch Marks Oil 100ml
Intimate Whitening & Moisturizing Gel 100ml and Erase Stretch Marks Oil 100ml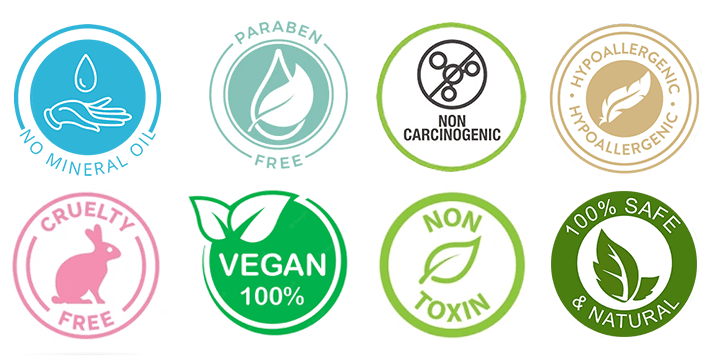 Vigini 100% Natural Actives Stretch Marks Scar removal cream oil in during after pregnancy delivery for women and organic Bio Oil for Hyperpigmentation, Anti Cellulite Massage Slimming oil, No Mineral Oil. Vigini Stretch marks Oil is a wonderful blend of premium natural oils highly beneficial for stretch marks and scars removal. Gets completely absorbed enters the layers of epidermis, locks moisture, helps generate new cells by removing dead cells. Reduces appearance of red marks , itching and prevents forming new marks. Increases elasticity, blood circulation and helps tighten loose and saggy muscles. Five minutes of massage twice a day will help get desire results soon.
Vigini 100% Natural Actives Vaginal V Tightening Lightening Whitening Brightening Intimate Deodorant Feminine Hygiene Deodorant Gel, Washable unlike Cream Oil Spray, Water based Lubricant Reduce Dryness,Moisturizes Improves Lubrication, Lubricating Lube action . Reduces Vagina Itching & Dryness Vigini Intimate Whitening Lightening Brightening Vaginal V Tightening Gel is an Anti Ageing formula helps Vagina regain natural tone and elasticity. Natural actives increase estrogen level and form new tissues. Reduce pigmentation lighten the color of Intimate area & bikini lines. Helps eliminate foul smell, prevents from infection and keeps Intimate area clean & healthy. Locks natural wetness of intimate area and improves elasticity. Reduces dryness, provides instant tightness you feel desirable sensuous & confident. .No Bleaching Agent, No Added Colour, No Paraben , No Sulphates, No Added Colors & Fragrance, No Mineral Oil and is Hypoallergenic.
Key Product Benefits
| | | | | |
| --- | --- | --- | --- | --- |
| Reduces Stretch Marks | Increase Elasticity | Encourages Collagen Prodiction | Helps Regenerate Skin & Repair Damage Tissues | Locks Moisture & Nourishes Skin |
Product Features & Benefits
Help to fade stretch marks and prevent new ones during and after pregnancy
Reduces redness of the marks and eliminates stretch marks and time
Treat stretch marks when applied to the skin.
Help lighten the marks on the skin
Key Product Benefits
| | | | | |
| --- | --- | --- | --- | --- |
| Reduces Pigmentation | Maintain pH | Prevents Dryness | Lighten the color of Intimate Area & Bikini Lines | Removes Itching and Discomfort |
Product Features & Benefits
Relive vaginal dryness and lubricate the vagina
Helps to form new tissues and also develop new cells
Help to reduce inflammation and reduce the infection
Help lighten the marks on the skin, improves the skin's ability to hydrate itself
Sea Buckthorn oil
Almond Oil
Turmeric Oil
Sesame Oil
Oak Gall
Curcuma Comosa Ext.
Amla Ext.
Aloe Vera Ext.
Take a portion & apply to the tummy, thighs, buttock, Arms & other affected area Gently massage in circular motion for 3 to 5 minutes.
Squeeze a portion of Whitening Gel & apply in intimate area. Use regular basis twice a day for early result.
Notice best results after 10-12 weeks of regular use.
Women above age of 18 years.
Vigini's formulations are based on 100% Natural Actives. Its ingredients are Natural and Safe and do not include any harmful Chemicals, Artificial Colours or Synthetic Fragrances that may harm its users in the long run. Vigini's products are all safe for use on Human Skin. All products are Paraben Free, Sulphate Free, Harmful Chemicals Free, Hypoallergenic & Non-Carcinogenic.
No Chemicals
Safe & Natural
No artificial Colours
Synthetic Fragrance Free
Non Carcinogenic
Hypoallergenic
Paraben Free
Castor Oil
Sea Buckthorn oil
Coconut Oil
Almond Oil
Sesame Oil
Jojoba Oil
Turmeric Oil
Chamomile Oil
Saffron Oil
Oak Gall
Cucumber Ext.
Ylang Ylang Essential Oil
Aloe Vera Ext.
Xanthan Gum
Sodium Gluconate
Aqua
Glycerine
Sea Buckthorn oil
Almond Oil
Turmeric Oil
Sesame Oil
Oak Gall
Curcuma Comosa Ext.
Amla Ext.
Aloe Vera Ext.

Take a portion & apply to the tummy, thighs, buttock, Arms & other affected area Gently massage in circular motion for 3 to 5 minutes.
Squeeze a portion of Whitening Gel & apply in intimate area. Use regular basis twice a day for early result.
Notice best results after 10-12 weeks of regular use.

Women above age of 18 years.

Vigini's formulations are based on 100% Natural Actives. Its ingredients are Natural and Safe and do not include any harmful Chemicals, Artificial Colours or Synthetic Fragrances that may harm its users in the long run. Vigini's products are all safe for use on Human Skin. All products are Paraben Free, Sulphate Free, Harmful Chemicals Free, Hypoallergenic & Non-Carcinogenic.

No Chemicals
Safe & Natural
No artificial Colours
Synthetic Fragrance Free
Non Carcinogenic
Hypoallergenic
Paraben Free

Castor Oil
Sea Buckthorn oil
Coconut Oil
Almond Oil
Sesame Oil
Jojoba Oil
Turmeric Oil
Chamomile Oil
Saffron Oil
Oak Gall
Cucumber Ext.
Ylang Ylang Essential Oil
Aloe Vera Ext.
Xanthan Gum
Sodium Gluconate
Aqua
Glycerine
For External Use Only. Store at temperature below 30'C