Hammer King Gel 50g and Fiery Hot 2 in 1 Massage Gel 100g
Hammer King Gel 50g and Fiery Hot 2 in 1 Massage Gel 100g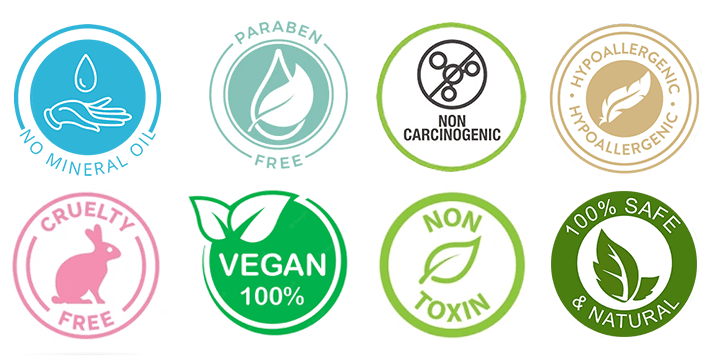 Vigini Hammer King Massage Cream Gel is designed to help men boost their performance. This intimate gel contains a combination of high-quality and unique herbal ingredients like javadi kasturi, hibiscus extract, essential oil, jaati phalam, jaatipatree and more. It is a revolutionary product to provide strength without surgery and side effects. Its unique formulation can increase blood flow so that it helps release the male hormones. Use it regularly for a stronger erection that lasts longer. This gel works proactively to make you more confident in bed and enhance your performance. It has a strong formula that prolongs pleasure and increases satisfaction.
Vigini Plus 100% Natural Actives 2 in 1 Aromatherapy Massage Gel Lubricant Lubricating Lubrication Lube Moisturizes Stimulates Reduces Friction Makes Love Intense Enjoyable for Longer Duration. Skin feels Soft & Supple. Enhances Feeling of Pleasure & Touch, Lubricating Lube Moisturizes Erogenous Area and Romantic Soothing Effect. Use Vigini+ Aromatherapy Massage Lubrication and Stimulating Gel every time you mingle and your partner for a New Sensual Experience.
Key Product Benefits
| Aroatherapy Sets the Mood | Stimulates Moisturizers Reduces Friction | Makes Skin Soft Supple | Water Based Gel | Non Staining Washable |
| --- | --- | --- | --- | --- |
Product Features & Benefits
Aromatherapy and lavender is a simple way to relax, boost mood, and decrease anxiety and depression, which can be helpful in boosting sexual
Increasing comfort during sex and minimizing any feelings of soreness or irritation
Stimulate sexual desire and to enhance performance and enjoyment
Nervous stimulants and have a positive effect on sexual behavior
Key Product Benefits
| | | | | |
| --- | --- | --- | --- | --- |
| Make Skin Soft Supple | Aromatherapy Sets the Mood | Stimulated Moisturizes Reduces Friction | Toy & Condom Friendly | Non Staining Washable |
Product Features & Benefits
Relive dryness and lubricate
Help provide soothing, anti-aging, sebum control and skin tone evening benefits
Improve skin hydration while also reducing irritation
Ylang Ylang Essential Oil.
Promotes relaxation and believed to treat anxiety, fungal infections, & allergies itself
Hibiscus Ext.
Jaatiphalam Ext.
Jaiphal Oil
Oak Gall
Cucumber Ext.
Ylang Ylang Essential Oil
Aloe Vera Ext.
Take a sizeable portion in your hand or finger and rub around your genital area. You can apply it to your partner's part or condoms. If you are using sex toys, apply lube to toy as well as small portion to your genital area to reduce friction.

Notice best results after 10-12 weeks of regular use.
Men & Women above age of 18 years.
Vigini's formulations are based on 100% Natural Actives. Its ingredients are Natural and Safe and do not include any harmful Chemicals, Artificial Colours or Synthetic Fragrances that may harm its users in the long run. Vigini's products are all safe for use on Human Skin. All products are Paraben Free, Sulphate Free, Harmful Chemicals Free, Hypoallergenic & Non-Carcinogenic
No Chemicals

Safe & Natural

No artificial Colours

Synthetic Fragrance Free

Non Carcinogenic

Hypoallergenic

Paraben Free
Oak Gall
Aloe Vera Ext.
Cucumber Ext.
Rose Oil
Glycerin
Cucumber Ext.
Ylang Ylang Essential Oil
Lavender Oil
Jaatiphalam Ext.
Hibiscus Ext.
Jaiphal Oil
Hibiscus Ext.
Jaatiphalam Ext.
Jaiphal Oil
Oak Gall
Cucumber Ext.
Ylang Ylang Essential Oil
Aloe Vera Ext.

Take a sizeable portion in your hand or finger and rub around your genital area. You can apply it to your partner's part or condoms. If you are using sex toys, apply lube to toy as well as small portion to your genital area to reduce friction.

Notice best results after 10-12 weeks of regular use.

Men & Women above age of 18 years.

Vigini's formulations are based on 100% Natural Actives. Its ingredients are Natural and Safe and do not include any harmful Chemicals, Artificial Colours or Synthetic Fragrances that may harm its users in the long run. Vigini's products are all safe for use on Human Skin. All products are Paraben Free, Sulphate Free, Harmful Chemicals Free, Hypoallergenic & Non-Carcinogenic

No Chemicals

Safe & Natural

No artificial Colours

Synthetic Fragrance Free

Non Carcinogenic

Hypoallergenic

Paraben Free

Oak Gall
Aloe Vera Ext.
Cucumber Ext.
Rose Oil
Glycerin
Cucumber Ext.
Ylang Ylang Essential Oil
Lavender Oil
Jaatiphalam Ext.
Hibiscus Ext.
Jaiphal Oil
For External Use Only. Store at temperature below 30'C