Hair Skin Nail (Biotin 10 mg) 30 caps, Hair Growth Redensyl Oil 100ml & Serum 30ml
Hair Skin Nail (Biotin 10 mg) 30 caps, Hair Growth Redensyl Oil 100ml & Serum 30ml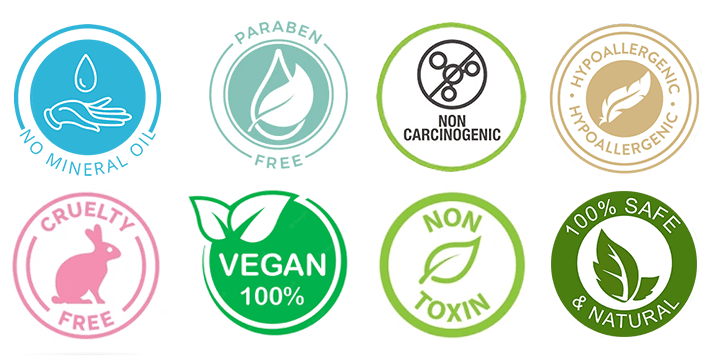 Vigini Hair Skin & Nail Health capsules provide the right amount of vital nutrients such as Biotin, Keratin , Saw Palmetto , Amino Acids , Vitamins & Minerals to help your Skin, Hair and Nail grow. Biotin is the best hair vitamin for faster hair growth, helps regrow lost hair, strengthen roots and stimulates the follicles for better growth. Biotin 10000 mcg is a supplement that helps to enhance the health of your hair, skin, and nails. Nourish the skin, thicken cuticles for stronger nails and hydrate & repair the hair after excessive breakage and damage.
Vigini 100% Natural Hair Growth Vitalizer Oil fights against hair fall and controls thinning of hair. The oil is a blend of premium natural actives like Redensyl, saw palmetto that strengthens hair follicles and reduces hair fall. It helps in hair regrowth and reverses balding. Its formula protects scalp from damage caused by chemicals and pollution thus providing healthy shiny hair.
Vigini Hair Growth Vitalizer Serum and Redensyl® Anagain, Anageline & Saw Palmetto is formulated and best quality actives to accelarate stronger and faster hair growth cycle. The top quality ingredients are all Natural and Safe and have proven values. Redensyl® helps in improving the quality of hair follicles and scalp by increasing the blood flow to the scalp. Nourished hair follicles result in stronger hair strands. It has no side effects and is a much cheaper alternative to Hair transplant. Anageline- delays hair loss and favours hair regrowth. controls the hair cycle by regulating the hormonal balance, reactivating the microcirculation and stimulating cells metabolism.
Key Product Benefits
| | | | | | |
| --- | --- | --- | --- | --- | --- |
| Reduces hair breakage, thinning & hair fall | Boost Hair Strength and Shine | Helps Boost Nail Strength | Reduces Nail Brittleness | Promotes Skin Health |   |
Product Features & Benefits
Increases rate of Hair Follicle growth, Supports Hair Health
Imporves skin, heal wounds and make your nails and hair healthy and stronger
Skin Brightening, lightens dark spots
Key Product Benefits
| | | | | |
| --- | --- | --- | --- | --- |
| Aids Faster Hair Growth | Helps Control Alopecia | Reduces Hair Fall | Nourishes Scalp | Unclog Pores |
Product Features & Benefits
Prevents Breakage & Thinning
Key Product Benefits
| | | | | |
| --- | --- | --- | --- | --- |
| Promotes Hair Growth | Reduces Hair Loss & Thinning | Increase Hair Density | Rebalances Hair Growth Cycle | Stimulates Blood Circulation on Scalp |
Product Features & Benefits
Stimulates hair growth at the root
Improves Hair Density, rejuvenates hair & infuses life into the strands
1% Redensyl.
3% Onion.
1% Saw Palmetto Ext.
3% Redensyl
3% Anageline
3% Saw Palmetto Ext.
Biotin 10000 Mcg
Keratin 200 Mg
Vitamins & Minerals
Saw Palmetto Ext.
Apply oil on scalp and massage gently for 8-10 mins.
Apply serum on scalp and massage gently for 8-10 mins.
Leave it for minimum 1 hour, for best results leave it overnight.
Recommended oiling 2-3 times a week.
One capsule twice a daily or as directed by health professional
Notice best results after 10-12 weeks of regular use.
Men and women above age of 15years.
Its suitable for all hair types.
Notice best results after 10-12 weeks of regular use.
Vigini's formulations are based on 100% Natural Actives. Its ingredients are Natural and Safe and do not include any harmful Chemicals, Artificial Colours or Synthetic Fragrances that may harm its users in the long run. Vigini's products are all safe for use on Human Skin. All products are Paraben Free, Sulphate Free, Harmful Chemicals Free, Hypoallergenic & Non-Carcinogenic
No Chemicals
Safe & Natural
No artificial Colours
Synthetic Fragrance Free
Non Carcinogenic
Hypoallergenic
Paraben Free
Redensyl
Biotin
Jojoba Oil
Aqua
Saw Palmetto Ext.
Amla Oil
Bhringraj
Anagain
Biotin 10000 Mcg
Keratin 200 Mg
Vitamins & Minerals
Saw Palmetto Ext.
Borage Oil
Vtamin C
Magnesium
Serine
1% Redensyl.
3% Onion.
1% Saw Palmetto Ext.
3% Redensyl
3% Anageline
3% Saw Palmetto Ext.
Biotin 10000 Mcg
Keratin 200 Mg
Vitamins & Minerals
Saw Palmetto Ext.

Apply oil on scalp and massage gently for 8-10 mins.
Apply serum on scalp and massage gently for 8-10 mins.
Leave it for minimum 1 hour, for best results leave it overnight.
Recommended oiling 2-3 times a week.
One capsule twice a daily or as directed by health professional
Notice best results after 10-12 weeks of regular use.

Men and women above age of 15years.
Its suitable for all hair types.
Notice best results after 10-12 weeks of regular use.

Vigini's formulations are based on 100% Natural Actives. Its ingredients are Natural and Safe and do not include any harmful Chemicals, Artificial Colours or Synthetic Fragrances that may harm its users in the long run. Vigini's products are all safe for use on Human Skin. All products are Paraben Free, Sulphate Free, Harmful Chemicals Free, Hypoallergenic & Non-Carcinogenic

No Chemicals
Safe & Natural
No artificial Colours
Synthetic Fragrance Free
Non Carcinogenic
Hypoallergenic
Paraben Free

Redensyl
Biotin
Jojoba Oil
Aqua
Saw Palmetto Ext.
Amla Oil
Bhringraj
Anagain
Biotin 10000 Mcg
Keratin 200 Mg
Vitamins & Minerals
Saw Palmetto Ext.
Borage Oil
Vtamin C
Magnesium
Serine
For External Use Only. Store at temperature below 30'C