Erase Stretch Marks Cream 100g and Bust Firming Massage Cream 100ml
Erase Stretch Marks Cream 100g and Bust Firming Massage Cream 100ml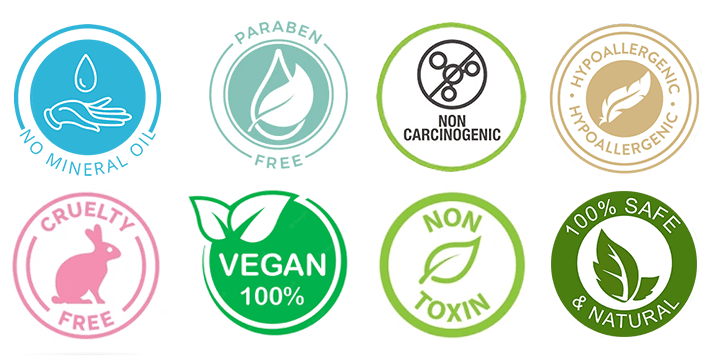 Vigini 100% Natural Actives Body Breast Massage Toner Shaping Gel Cream,Helps Development Growth Enhancement Enlargement Increase Tightening Firming of Bust and capsule, Prevents Sagging Big Bust Full 36 ,Non staining as Oil Spray, Breast firming Tightening Enhancement cream is a unique blend of 100% natural actives. Vigini Bust Breast Toner is formulated to increase elasticity, Tighten muscles & provide firm toned bust. Antioxidants nourish skin, increase blood circulation, develop healthy tissues & strengthen loose muscles. Rejuvenating properties develop new cells, helps encourage collagen production & improve elasticity. Moisturizes skin & encourage body's natural growth process to enhance bust shape and size.Toned bust and attractive cleavage is the dream of every women. Not every woman has toned and well shaped bust. It adds to a women's self esteem and confidence. There are clinics performing cosmetic and breast lifting surgeries for saggy and disproportioned bust, they are quite expensive and can be unsafe. Vigini Bust firming cream helps bring your bust in shape. It's a perfect combination of herbs and science. Natural Actives like Shea Butter,Witch Hazel, Argan oil and many other ingredients are proven herbal remedies for bust firming. Vigini helps keep saggy bust into shape . It contains antioxidant properties which nourish muscles around the bust and keep it healthy. It increase blood circulation, develop new tissues and strengthen the loose muscles. Rejuvenating properties that help develop new cells and remove dead cells. Ingredients like collagen which keep muscles tight and elastin keep elasticity of muscles. It moisturizes the skin and locks it for longer period of time.
Vigini Erase Stretch Marks Cream is a wonderful blend of Natural Actives highly beneficial for stretch marks & scars removal, gets completely absorbed enters layers of epidermis, locks moisture, helps generate new cells by removing dead cells. Reduces appearance of red marks , itching and prevents forming new marks. It increases elasticity of the skin, blood circulation and helps tighten loose and saggy muscles. Five minutes of massage twice a day will help get desire results soon. Collagen & Stretch Marks Actives. Paraben Free, Sulpahte Free , Non Carcinogenic, Mineral Oil Free No added fragrance or color. Vigini Stretch Marks Scar removal cream is a great formula designed for pregnant women or for people having stretch marks due to very fast weight gain or weight loss.
Key Product Benefits
| | | | | |
| --- | --- | --- | --- | --- |
| Bust Enhancement | Reverses Sagging | Reduces Sign of Aging | Tones Up Bust Line | Shapes Cleavage Line |
Product Features & Benefits
Reverses loss of Elasticity by Stimulating collagen production
Help provide soothing, anti-aging, sebum control and skin tone evening benefits
Improve skin hydration while also reducing irritation
Promotes relaxation and believed to treat anxiety, fungal infections, & allergies
Key Product Benefits
| | | | | |
| --- | --- | --- | --- | --- |
| Reduces Stretch Marks | Increase Elasticity | Encourages Collagen Production | Helps Regenerate Skin & Repair Damaged Tissues | Locks Moisture & Nourishes Skin |
Product Features & Benefits
Help reduce the appearance of stretch marks and scarring
Help to soften the skin and increase elasticity
Minimize the appearance of stretch marks and lines
Hydrates Skin and Make it soft
Collagen
Shea Butter
Witch Hazel Ext.
Avocado Oil
Oak Gall Ext
Shea Butter
Kokum Butter
Cocoa Butter
Hyaluronic Acid
Take a portion & apply to the tummy, thighs, buttock, Arms & other affected areas. Gently massage in circular motion for 3 to 5 minutes.
Start from 2nd trimester of Pregnancy, until 6 months after delivery or till the skin falls back in original shape.
Notice best results after 10-12 weeks of regular use.
Women above age of 18 years.
Vigini's formulations are based on 100% Natural Actives. Its ingredients are Natural and Safe and do not include any harmful Chemicals, Artificial Colours or Synthetic Fragrances that may harm its users in the long run. Vigini's products are all safe for use on Human Skin. All products are Paraben Free, Sulphate Free, Harmful Chemicals Free, Hypoallergenic & Non-Carcinogenic
No Chemicals
Safe & Natural
No artificial Colours
Synthetic Fragrance Free
Non Carcinogenic
Hypoallergenic
Paraben Free
Collagen
Shea Butter
Witch Hazel Ext.
Avocado Oil
Argon Oil
Lemon Oil
Vitamin E
Fenugreek
Oak Gall Ext
Shea Butter
Kokum Butter
Cocoa Butter
Hyaluronic Acid
Green Tea Ext.
Vitamin E,A,B5
Almond Oil
Collagen
Collagen
Shea Butter
Witch Hazel Ext.
Avocado Oil
Oak Gall Ext
Shea Butter
Kokum Butter
Cocoa Butter
Hyaluronic Acid

Take a portion & apply to the tummy, thighs, buttock, Arms & other affected areas. Gently massage in circular motion for 3 to 5 minutes.
Start from 2nd trimester of Pregnancy, until 6 months after delivery or till the skin falls back in original shape.
Notice best results after 10-12 weeks of regular use.

Women above age of 18 years.

Vigini's formulations are based on 100% Natural Actives. Its ingredients are Natural and Safe and do not include any harmful Chemicals, Artificial Colours or Synthetic Fragrances that may harm its users in the long run. Vigini's products are all safe for use on Human Skin. All products are Paraben Free, Sulphate Free, Harmful Chemicals Free, Hypoallergenic & Non-Carcinogenic

No Chemicals
Safe & Natural
No artificial Colours
Synthetic Fragrance Free
Non Carcinogenic
Hypoallergenic
Paraben Free

Collagen
Shea Butter
Witch Hazel Ext.
Avocado Oil
Argon Oil
Lemon Oil
Vitamin E
Fenugreek
Oak Gall Ext
Shea Butter
Kokum Butter
Cocoa Butter
Hyaluronic Acid
Green Tea Ext.
Vitamin E,A,B5
Almond Oil
Collagen
For External Use Only. Store at temperature below 30'C