Damage Control Nourshing 100ml and Early Gray Prevention Hair Oil 100ml
Damage Control Nourshing 100ml and Early Gray Prevention Hair Oil 100ml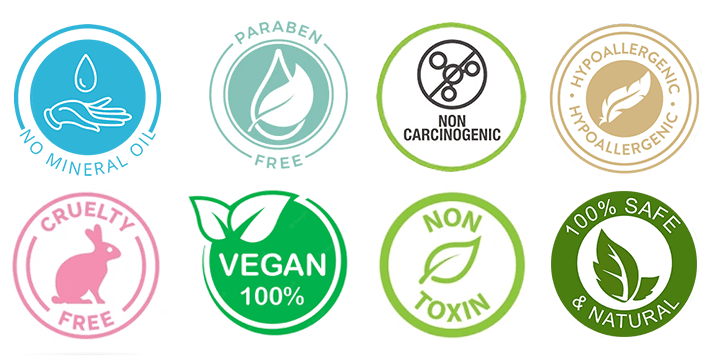 Vigini 100% Natural Early Greying Prevention Hair Oil is an anti greying formula which helps in prevention of early greying of hair besides promoting Natural Hair growth. It restores Melanin in hair and nourishes the scalp. It prevents hair fall, thinning, split ends and volume loss. This hair oil actively helps in keeping the dark hair pigment intact and prevents premature greying of the hair.
Vigini 100% Natural Damage Control & Nourishing Hair Oils contains premium quality oils and natural actives that are a perfect blend for giving required nourishment to your hair and making them stronger, shinier, long and lustrous. This hair oil is a solution for dry rough brittle hair caused by styling, rebonding, heat, chemical, and color dyes.
Key Product Benefits
| | | | | |
| --- | --- | --- | --- | --- |
| Delays Greying | Restores Melanin in Hair | Reduces Dryness & Itching | Promotes Natural Color Hair Growth | Strengthens Hair Follicles |
Product Features & Benefits
Help in controling /reversing the process of greying
Hydrates and moisturizes scalp
Provides Nourishment to hair follicles
Key Product Benefits
| | | | | |
| --- | --- | --- | --- | --- |
| Repair Heat & Chemically Damaged Hair | Help revitalizer dull, weak & Frizzy Hair | Controls hair loss | Nourishes Scalp | Strengthens Hair Follicles |
Product Features & Benefits
Repairs dry rough and brittle hair
Softens, hydrates, restores natural sheen and act as a barrier against pollution
Make hair follicles stronger and healthier.
Gives hair strong structure, conditions and strengthens hair
Onion Seed Oil
Black Sesame Oil
Flaxseed Oil
Amla Oil
Curry Leaves Ext.
Sacha Inchi Seed Oil
Camellia Japonica Oil
Macadamia Nut Oil
Keratin
Vitamin E
Brahmi Ext.
Argan Oil
Apply oil on scalp and massage gently for 8-10 mins.
Leave it for minimum 1 hour, for best results leave it overnight.
Recommended oiling 2-3 times a week.
Notice best results after 10-12 weeks of regular use.
Men and women above age of 15years.
Its suitable for all hair types.
Vigini's formulations are based on 100% Natural Actives. Its ingredients are Natural and Safe and do not include any harmful Chemicals, Artificial Colours or Synthetic Fragrances that may harm its users in the long run. Vigini's products are all safe for use on Human Skin. All products are Paraben Free, Sulphate Free, Harmful Chemicals Free, Hypoallergenic & Non-Carcinogenic
No Chemicals
Safe & Natural
No artificial Colours
Synthetic Fragrance Free
Non Carcinogenic
Hypoallergenic
Paraben Free
Onion Seed Oil
Black Sesame Oil
Amla Oil
Ashwagandha Ext.
Shikakai Ext.
Brahmi Ext.
Curry Leaves Ext.
Sage Oil
Sacha Inchi Seed Oil
Camellia Japonica Oil
Macadamia Nut Oil
Keratin
Vitamin E
Brahmi Ext.
Argan Oil
Coconut Oil
Onion Seed Oil
Black Sesame Oil
Flaxseed Oil
Amla Oil
Curry Leaves Ext.
Sacha Inchi Seed Oil
Camellia Japonica Oil
Macadamia Nut Oil
Keratin
Vitamin E
Brahmi Ext.
Argan Oil

Apply oil on scalp and massage gently for 8-10 mins.
Leave it for minimum 1 hour, for best results leave it overnight.
Recommended oiling 2-3 times a week.
Notice best results after 10-12 weeks of regular use.

Men and women above age of 15years.
Its suitable for all hair types.

Vigini's formulations are based on 100% Natural Actives. Its ingredients are Natural and Safe and do not include any harmful Chemicals, Artificial Colours or Synthetic Fragrances that may harm its users in the long run. Vigini's products are all safe for use on Human Skin. All products are Paraben Free, Sulphate Free, Harmful Chemicals Free, Hypoallergenic & Non-Carcinogenic

No Chemicals
Safe & Natural
No artificial Colours
Synthetic Fragrance Free
Non Carcinogenic
Hypoallergenic
Paraben Free

Onion Seed Oil
Black Sesame Oil
Amla Oil
Ashwagandha Ext.
Shikakai Ext.
Brahmi Ext.
Curry Leaves Ext.
Sage Oil
Sacha Inchi Seed Oil
Camellia Japonica Oil
Macadamia Nut Oil
Keratin
Vitamin E
Brahmi Ext.
Argan Oil
Coconut Oil
For External Use Only. Store at temperature below 30'C