Anti Acne Serum 30ml and Anti Acne Pimple Removal Mask 50gm
Anti Acne Serum 30ml and Anti Acne Pimple Removal Mask 50gm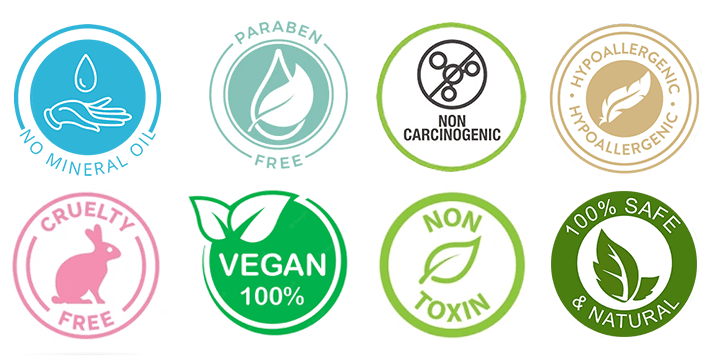 Vigni Anti Acne Face Serum balances oil and reduces open pores. Provides much needed clear matte look throughout the day by balancing oil, controlling sebum activity and reducing pore congestion. This serum improves skin texture by reducing visible pores, redness and inflammation. Removes and Prevents acne marks and blemishes. Vigini Anti Acne serum is proven to reduce acne marks and dark spots , resulting in even complexion or tone. Improves skin barrier and reduces acne.
Vigini Acne Control Mask reduces occurrence of pimples, acne and zits effectively. Controls Acne flare-ups. Refines and minimize pores. Vigini Acne Control Mask Clears pores, Removes oil, Dirt and Slough away dead cells. Making skin brighter and gives mattifying effect to the skin. Specially formulated for normal to oily skin. The mask is formulated with Marine Algae, Salicylic acid, Green Tea ext, Hyaluronic Acid , Glycolic Acid. After use the Skin feels clean, detoxed and fresh. For best results use twice a week after Foaming Face Wash.
Key Product Benefits
| | | | | |
| --- | --- | --- | --- | --- |
| Improves skin texture by reducing visible pores | Oil Control formula, Cleanses & Tones Skin | Reduces Redness and Inflammation | Removes and Prevents acne marks | Unclogs Blocked Pores |
Product Features & Benefits
Decreases the number of pimples that form and speeds healing.
Effectively lightens and reduces UV induced pigmentation and free radicals, andout increasing sun sensitivity
This essential nutrient helps build proteins in the skin and offers protection against environmental damage
Manages Acne BreakoutTea tree oil is used topically on the skin for its antiseptic, antibacterial, and anti-inflammatory properties in addressing skin conditions, such as acne
Key Product Benefits
| | | | | |
| --- | --- | --- | --- | --- |
| Effectively clean skin pores | Detoxifies skin from impurities | Balances skin natural oil | Intense hydration | Brightens skin tone |
Product Features & Benefits
Hydrating, Revitalizing and Toning
Tightens pores, Anti Ageing
Reduces pimples, speeds up healing.
Locks Skin Moisture, Protects cell damage.
Salicylic Acid
Alpha Arbutin
Niacinamide
Tea Tree Oil
Marine Algae
Witch Hazel Ext.
Vitamin E
Clean your face with Vigini Foaming Face Wash. Pat dry.
Apply Anti Acne Serum AM & PM. Take few drops, apply on affected area. Let it absorb into the skin.
Clean your Face and Neck. Apply the Face Mask with your fingertips all over your face and Neck leaving Skin around the eyes. Allow the paste to dry naturally. Rinse off with water. Finish with VIGINI Acne Gel or Mattifying Moisturizer.
Notice best results after 10-12 weeks of regular use.
Men and women above age of 15years.
Suitable for Teenagers suffering from Acne
Vigini's formulations are based on 100% Natural Actives. Its ingredients are Natural and Safe and do not include any harmful Chemicals, Artificial Colours or Synthetic Fragrances that may harm its users in the long run. Vigini's products are all safe for use on Human Skin. All products are Paraben Free, Sulphate Free, Harmful Chemicals Free, Hypoallergenic & Non-Carcinogenic.
No Chemicals
Safe & Natural
No artificial Colours
Synthetic Fragrance Free
Non Carcinogenic
Hypoallergenic
Paraben Free
Salicylic Acid
Alpha Arbutin
Niacinamide
Tea Tree Oil
Azelaic Acid
Hyaluronic Acid
Vitamin C
Marine Algae
Witch Hazel Ext.
Vitamin E
Hyaluronic Acid
Wheatgerm Oil
Glycolic Acid
Salicylic Acid
Alpha Arbutin
Niacinamide
Tea Tree Oil
Marine Algae
Witch Hazel Ext.
Vitamin E

Clean your face with Vigini Foaming Face Wash. Pat dry.
Apply Anti Acne Serum AM & PM. Take few drops, apply on affected area. Let it absorb into the skin.
Clean your Face and Neck. Apply the Face Mask with your fingertips all over your face and Neck leaving Skin around the eyes. Allow the paste to dry naturally. Rinse off with water. Finish with VIGINI Acne Gel or Mattifying Moisturizer.
Notice best results after 10-12 weeks of regular use.

Men and women above age of 15years.
Suitable for Teenagers suffering from Acne

Vigini's formulations are based on 100% Natural Actives. Its ingredients are Natural and Safe and do not include any harmful Chemicals, Artificial Colours or Synthetic Fragrances that may harm its users in the long run. Vigini's products are all safe for use on Human Skin. All products are Paraben Free, Sulphate Free, Harmful Chemicals Free, Hypoallergenic & Non-Carcinogenic.

No Chemicals
Safe & Natural
No artificial Colours
Synthetic Fragrance Free
Non Carcinogenic
Hypoallergenic
Paraben Free

Salicylic Acid
Alpha Arbutin
Niacinamide
Tea Tree Oil
Azelaic Acid
Hyaluronic Acid
Vitamin C
Marine Algae
Witch Hazel Ext.
Vitamin E
Hyaluronic Acid
Wheatgerm Oil
Glycolic Acid
For External Use Only. Store at temperature below 30'C