Science behind products Intimate Wellness Men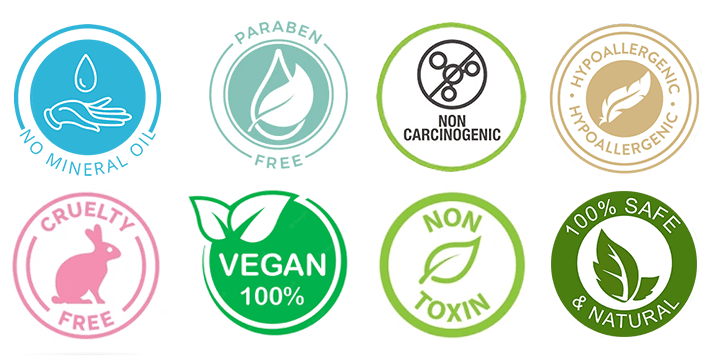 Vigini Hammer King Natural Intimate Lightening Hygiene Gel Wash is designed to meet the needs of your Intimate Parts Gently with the goodness of real Exotic Actives and Skin Purifiers, it takes utmost care of your intimate area and adds a pleasant feeling of purity, health and freshness throughout the day. Our wash is unique and specially designed to provide a long lasting refreshing young clean feel for your intimate areas. 
How VIGINI Hammer King Lightening Intimate Wash provides multiple benefits with one single product. With its ingredients like Niacinamide, Glutathione, Alpha Arbutin, Activated Charcoal Powder, Coffee Ext, Xanthan Gum, Allantoin, Vitamin C, help in lightening dark spots and whitening the skin tone of your private part. 
Coffee Ext Exfoliates  DetoxifIes & Revitalizes dull tired skin improves blood circulation and helps in removal of Imperfections. Removes Deep Dead cells making skin smoother and brighter. Argan Oil maintains necessary softness and ingredients Aloe Vera & Jojoba Oil have antiseptic properties which helps in preventing fungal infections and treating rashes and itching. Its natural ingredients are very safe to use and avoids any unnecessary usage of chemicals. Niacinamide reduces redness , Alpha Arbutin decreases melanin & Vitamin C reduces dark spot and patches, together giving a young skin. Coffee Removes Deep Dead cells making skin smoother and brighter looking.
Easy to carry and easy to use pack is very handy and can be used anywhere.
Benefits
Premium Natural Actives 

Removal Dark Spots Dead Cells & Hyperpigmentation

Lightening, Moisturizing 

Soft, Supple Skin

Maintains pH 

Deeply Cleanses & Refreshes

Infused with Whitening Agents

Removes Dead Skin Cells 

Helps Boost Energy Level

Suitable for All Skin Types

No Harmful Chemicals
Prevents 
Itching , Dryness, Irritation, Bad Odor, Prevents chafing 
Actives  
Aqua | Lauryl Glucoside |Coco Glucoside| Glycerin | Niacinamide | Aloe vera Ext | Coffee Ext | Activated Charcoal Powder | Allantoin | Xanthan Gum | Argan Oil | Jojoba Oil | Alpha Arbutin | Vitamin C | Glutathione | 
How to Use?
Squeeze once to twice onto your palm.

Gently massage the lather on your genitals and rinse well with water.

Use while showering daily.
Active Benefits   
Niacinamide reduces inflammation and redness.
Argan oil helps in used skin lightening and can be used to reduce dark spots and other forms of hyperpigmentation. 
Jojoba oil has positive effects on the sensitive mucous membranes in the genital area and improve the elasticity of the skin, also helps to lighten dark patches of skin.
Activated charcoal powder antibacterial and antifungal properties can help heal damaged skin. Activated charcoal cleanses the pores of the skin and clear bacteria, dirt and oil clogging them. 
Alpha arbutin decreases the levels of melanin. As a result, the skin gets a lighter tone and dark spots.
 Vitamin C helps in skin brightening. 
Glutathione helps lighten complexion, creates even skin tone by reducing dark spots & patches.
Xanthan Gum  Hydrates Moisturizes 
Glycerine makes Skin Soft Supple deeply hydrates the skin and leaves it soft and supple. It also refreshes the skin's surface
Allantoin Moisturizes & Smoothens Skin moisturizes the skin to prevent dryness irritation.
Aloevera Ext Moisturizes & Fades Blemishes.
Coffee Ext Exfoliates  DetoxifIes & Revitalizes dull tired skin improves blood circulation,  and helps in removal of Imperfections. Removes Deep Dead cells making skin smoother and brighter looking. 
What is hyperpigmentation?
Hyperpigmentation occurs when the skin produces more melanin, the pigment that gives skin its color. This can make spots or patches of skin appear darker than surrounding areas. Hyperpigmentation is a common skin condition. It affects people of all skin types.
How can I Lighten my private part?
1) By changing daily habits and maintaining cleanliness
2) Use comfortable cloths, preferably loose and cotton.
3) Keep private part moisturized
4) Regularly clean Intimate area with VIGINI Lightening wash .
5) Healthy and Regular diet.
6) Maintain good body weight
7) Reduce usage of talcum powder and razor on regular basis.
8) Use products with Natural Actives to reverse changes.
Ageing and Hyper pigmentation.
• Excess production of Melanin
• Uncomfortable cloths or tight wear (using synthetic instead of cotton)
• Using talcum powder on regular basis.
• Regular shaving of private part
• Hormonal imbalance
• Bacterial or fungal infection
• Weight gain
• Uses of unnatural products like cream or soap
• Dry skin and scratching
By changing day to day habit and maintaining cleanliness

Use comfortable cloths, preferably loose and cotton cloths.

Keep your private part moisturized

Regularly clean your intimate area.

Maintain good body weight

Reduce the usage of talcum powder and razor on regular basis
Why Hammer King Wash?
Men feel embarrassed to talk about personal matters, We take pleasure in introducing our Hammer king Mens Intimate Gel Wash – Super Hygienic Intimate Wash for men, for freshness. Made from natural & herbal ingredients helps in gentle cleansing & lightening of Intimate Area.
Why is it important to use an intimate wash?
Intimate washes are important to ensure that your sensitive skin is cleaned without the use of any harsh chemicals. So the chances of infections, allergies and rashes are reduced in your intimate area.
Can intimate washes be used every day?

Intimate washes are usually mild and effective for daily usage. You can use them every day while having a bath to ensure that your skin stays clean and fresh at all times.
Compared to women, men have always been more outgoing, open and sports loving. In daily life, men often do not show too much attention to personal health care, but in fact, male body care is equally important.
CLEAN AND FRESH: When you've had a hard day at work or an energetic workout, you want to relax your body quickly. This daily intimate wash is the ideal choice for you. Use it while bathing to get your intimate parts fresh, clean, non-greasy 
NATURAL AND SAFE: These hygiene products for men are derived from natural herbal formulas and are professionally skin tested to prove that they contain no dyes, no alcohol, no harmful chemicals and no allergic factors. Every drop is responsible for your health.
For All Day Freshness
The men's intimate wash is made of high-quality ingredients, which helps in keeping you clean with a lighter skin.
Made of Natural Ingredients
This wash is made by blending natural ingredients Aloe vera extract, Argan Oil, Jojoba Oil, Coffee Extract, Charcoal Powder, Vitamin C, Glutathione, Niacinamide, Alpha Arbutin
No Harsh Chemicals
This men's wash is known to be made in a natural way. It is known to be free of parabens and sulphates. The natural non-irritating formula of this wash is devoid of harsh chemicals and artificial reagents.
Suitable for Daily Use
This is a self-care hygienic wash for men, which can be used every day while showering or bathing. It has soothing properties that is designed to deal with the uncomfortable and unhygienic conditions in the intimate area.
Extra Writeup
Vigini Hammer King Intimate Lightening Wash is perfectly designed to remove pigmentation due to sweating ,use of razors or harmful soaps.

This Intimate Wash with ayurvedic ingredients that protects your intimate area from dryness and rashes.

Intimate Wash has been formulated to maintain a healthy pH level for your intimate areas, it maintains the pH level between 5.3 and 5.8 which has been found the ideal for men's intimate areas.

 

Removes bad odor, leaving you with smooth clear clean skin.
Clean New way of Life
Intimate hygiene is an important part of men's health. Regular use of soap and body washes can cause itching, irritation and dryness, making one feel uncomfortable. Vigini Hammer King Men's Natural Intimate Wash is specially formulated with Ayurvedic ingredients that gently cleanses & protects your intimate area. It helps to preserve the natural mildly acidic pH of the intimate area, keeping you clean and hygienic.
Our Gel Based Wash is specially curated for your intimate area. It's gentle enough for daily use. Intimate care requires as much attention as your face especially if you like to get down and dirty.

Being clean around your intimate area will protect you from infections.

 It takes utmost care of your intimate area and adds a pleasant feeling of purity, health and freshness throughout the day
Our special Gel Wash formula removes residual left by condoms and lubricants and keeps your intimate area fresh and clean.